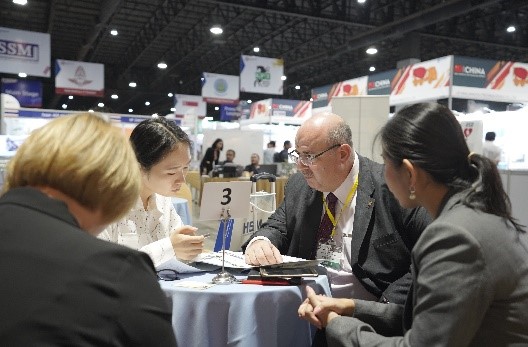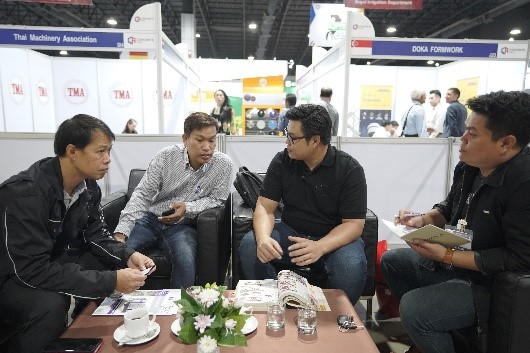 What is the Hosted Buyer Business Matching Program?
The Hosted Buyer Program, Building Construction Technology Expo 2023 (BCT Expo) is a unique component of our show that provides top-level potential buyers, with the opportunity to meet with the exhibitors of their choice for focused one-to-one business meeting appointments. Qualified buyers will receive benefits as mentioned by the organizer.
Our Professional Business Matchmaking Service
Connect with targeted local/international suppliers
Plan all your business meetings in advance and save time
Customize your meeting schedule to suit your needs
Meet face-to-face with decision makers in the comfort of our designated meeting space
Network & build strategic alliances
WHO CAN APPLY?
Our Hosted Buyer Program is available for the overseas buyers & Industry professionals from the below sectors:
BELONGS to one of the following business sectors:
Architectural
Consultancy Services
Contractor
Distributors/Agents/Dealers
Engineering
Exporters
Facility Management
Government
Importers
Investment
Land & Quantity Surveying
Project Management
Real Estate Development
Retailers & E-tailers
System Integration
Wholesalers
What are the buyers committing to:
Attend a minimum of 4 pre-scheduled meetings with matching exhibitors of choice during 20-22 September 2023.
Both Hosted Buyers and Exhibitors have to meet at the Dedicated Business Matching Zone for each meeting appointments.
Hosted Buyers are free to explore the Exhibition area after (his/her) last meeting of each day.
BENEFITS FOR VERIFIED BUYERS may include but are not limited to:
1 or 2-night complimentary accommodation at the official hotel. *for qualified overseas buyers only
Airport – Official Hotel pick up and drop off service.
(Available only for endorsed international association groups/tour promoter who can bring in a minimum of 10 qualified Buyers to the show)
Access and usage of the Business Matching System.
Access to Business Matching Zone.
Free refreshments at the Business matching zone.
Free Lunch coupons
Being part of our Buyer Program, we provide privileges to qualified International Buyer delegates which follows:
Option 1: The hosted Buyers has to do minimum 4 meetings and above: 1-night stay at the show official hotel (check in 20 SEP 2023 and check out 21 SEP 2023 OR check in 21 SEP 2023 and check out 22 SEP 2023)
Option 2: The hosted Buyers has to do minimum 7 meetings and above: 2-night stay at the show official hotel (check in 20 SEP 2023 and Check out 22 SEP 2023)
– Access to all networking activities
– Access on the business matching portal and Business Matching Zone for the 1 on 1 meeting.
Upon receiving the application, each participant will be reviewed basis on the below criteria (but not limited to) the following:
Must have official company website(s) and company name card.
Related company (nature of business or one of business units) in the industrial ecosystem which can be suited for ordering/buying products or services from the show exhibitor(s).
Level of purchasing or decision-making authority or any other related job title who able to have business conversation/interaction.
Qualified and confirmed eligible visitors will be notified within 7-10 working days by the organizer through email.
How to apply?
STEP 1 – APPLY
Interested buyers may complete the online registration on our BCT Expo 20223 website. On the registration page, kindly state your products of interest as precise as possible.
STEP 2 – CONFIRM
Approved buyers will receive a confirmation via email from the organizer. Organizer will ask for official flight (itinerary) booking confirmation, filled in official hotel booking form, including passport details, arrange your own meetings with show exhibitors via our business matching system etc. The organizer will provide you the hotel details once we receive the required complete documents.
STEP 3 – PREPARE
Hosted Buyers will pre-select and schedule meetings with the relevant exhibitors via our online business matching platform. It is the responsibility of Hosted Buyers to secure a minimum of 4 meetings for 1 night or to secure a minimum of 7 meetings for 2 nights complimentary stay at the official hotel as nominated by the organizer.
STEP 4 – ATTEND
Hosted Buyers will meet exhibitor(s) based on the pre-arranged meeting date and time. Hosted Buyers and Exhibitors must be punctual and show up first at Business Matching Zone for the organizer to facilitate and guide a meeting table number on each meeting slot and etc.
STEP 5 – GET PROVIDED
Hosted Buyers' hotel room night cost at show official hotel will be paid by the organizer upon fulfilling the minimum of 4 hosted buyer meetings for 1 night or minimum of 7 hosted buyer meetings for 2 nights.
*Remarks:
Exhibitors or non-buyer parties (e.g. media, students and etc.) are not eligible for the above program.
Only one person per company/ per group of companies is eligible for this program.
IMPACT Exhibition Management Co., Ltd. reserves the right of final decision.
Benefits and program may be subjected to changes
International Buyer enquiries
Mr. Kalanyoo Ammaranon
Buyer Promotions Manager
Tel: +66 (0) 2-833-6339
E-mail: [email protected]
Local Buyer enquiries
Miss Waranya Moonkanha
Buyer Promotions Executive
Tel: +66 (0) 2-833-5324
E-mail: [email protected]