Building Construction Technology Virtual Exhibition & Webinars launches today!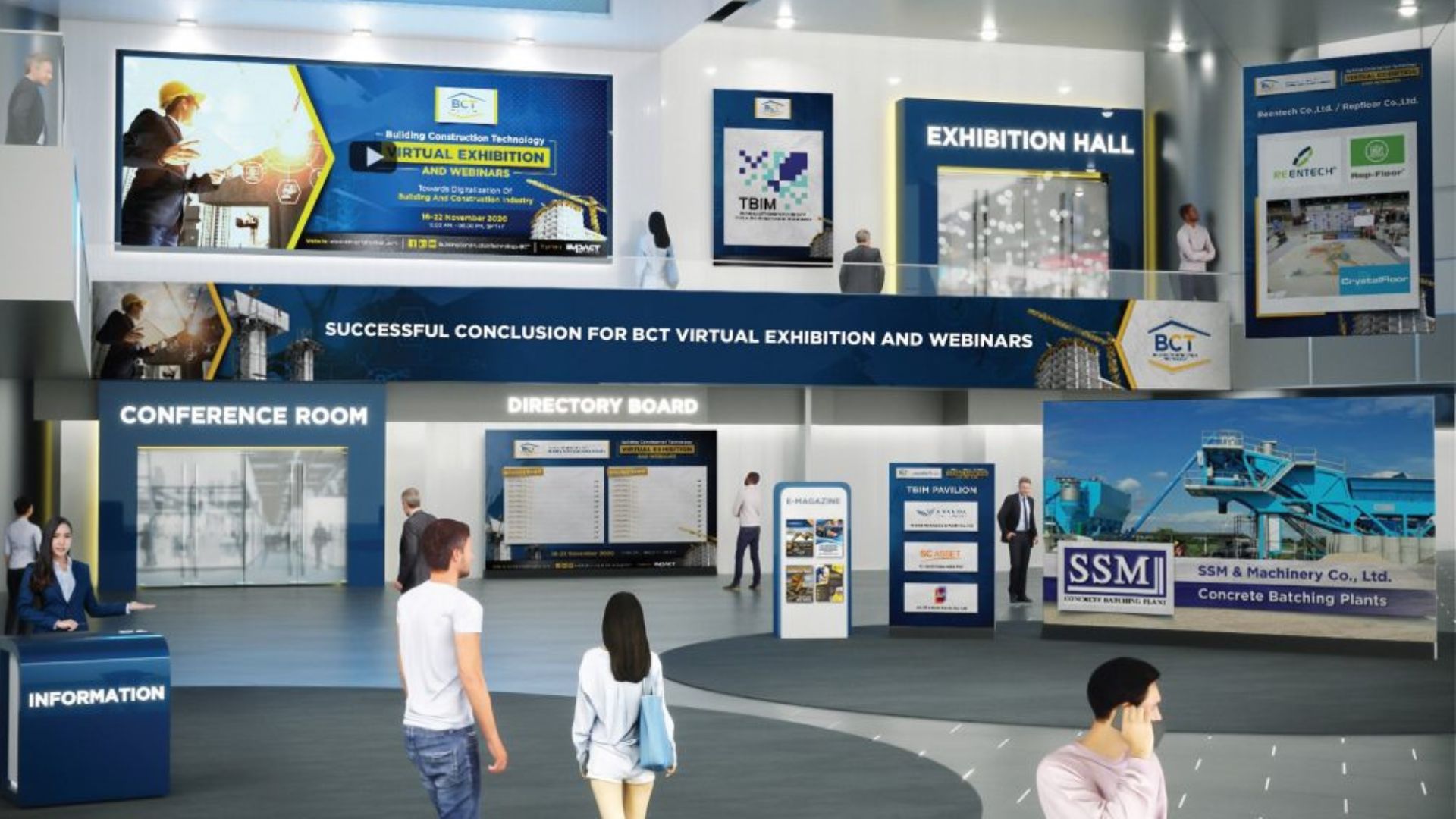 Bangkok, Thailand, 25 November 2020 – Building Construction Technology Virtual Exhibition and Webinars (BCT), a free-to-attend virtual event organized by IMPACT Exhibition Management Co., Ltd. starts today, 25 November until 1 December with series of knowledge-powered webinars focused on Digitalization of Building & Construction Industry.
The seven-day virtual exhibition will bring global construction professionals and industry experts in one platform, together with leading manufacturers, wholesalers, dealers, and distributors to network and exchange best practices. It is a unique chance for the participants to experience live online new and innovative technologies, solutions, products, and services from leading global players such as Caterpillar Asia Pte Ltd., Kawasaki Trading (Thailand) Co., Ltd., Progress Group (Germany), The Siam Cement Public Company Limited (SCG), Foshan Surecor Decoration Materials Co., Ltd – and also set up virtual meetings to discuss new business opportunities.
The event will also provide a beneficial experience to online attendees with the 18 live-online conference, webinars, and virtual panel discussions conducted in partnerships with various industry associations such as the Thai Building Information Modelling Association (TBIM), Thai Concrete Association (TCA), Thai Structural Engineers Association (TSEA), Thailand Building Manager Association (TBMA), The Building Inspectors Association (BSA), and Thai Generator Association (GEN THAI) on topics that include Structural Resistance of Buildings to Earthquake Loads, Building Management in 5.0 Era, and Digital Transformation.
Attendees are welcome to participate in the live Q&A session with more than 40 world-renowned experts in the construction industry. Speakers include Dr. Amorn Pimanmas, President of Thai Structural Engineers Association, Thailand; Dr. Chuchai Sujivorakul, Vice President of Thailand Concrete Association, Thailand; Dr. Amarnath Chegu Badrinath, Head BIM Strategy of L&T Construction, President of India BIM Association, India; Dr. Ponn Virunluk, Vice President of Thai BIM Association, Thailand; Mr. Carl Silbersky, CEO of BIM Object, Sweden.
In addition to the live activities in the virtual event, BCT Virtual Exhibition and Webinars is also in strong partnership with Thailand Building Information Modeling Association (TBIM) and Italian Trade Agency (ITA). TBIM organized TBIM Pavilion consisting of Thailand top building and construction solution providers – AP (Thailand) Public Company, Ananda Development Public Company Limited, SC ASSET Public Company Limited, and The Siam Cement Public Company Limited (SCG), while ITA is bringing top construction suppliers from Italy such as BOSSONG S.p.A., and Stucco Italiano Srl.
"We are excited to kick-off the digital building and construction platform to the global construction industry. We are welcoming all attendees from all sectors of industry in one platform with our interactive and powerful networking tools to engage and do business with the construction market while also learning through series of 'free-to-attend' webinars – accessible 24 hours from the comfort of their home or office", says Mr. Loy Joon How, General Manager of IMPACT Exhibition Management Co., Ltd.